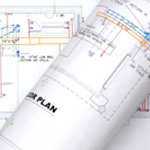 Custom Air installs state of the art equipment in all new heating and cooling installations. Carrier Equipment a legend in reliability, is used in all of our new duct board and/or sheet metal system installations. The high efficiency equipment is matched to fit your home comfort needs and then the system is designed to match the equipment. Quality materials, such as Hart and Cooley, Owens Corning, ATCO, Gray Metal, Honeywell, Beckett, Aprilaire, Nashua, as well as others are used in the design of your system.
The system is designed and fabricated by our installation staff of trained and caring installers. Our installers attend classes several times a year to keep in tune with industry changes. Their concern is to move and distribute comfort throughout your home, as well as respect your home and its contents while installing your system.
"Feel the Difference" with a heating and cooling system designed and installed by Custom Air, Inc. SECOND TO NONE!