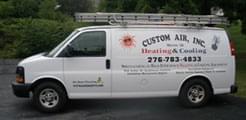 Custom Air, Inc. is a leading heating and cooling contractor specializing in high-efficiency heating and cooling equipment, air quality and duct cleaning in the counties of Smyth, Wythe, Grayson, and beyond. Custom Air was founded in 1993 by Brian K. Reynolds. Brian has over 30 years experience in the HVAC industry in both heavy to light commercial and residential equipment. Still family owned and operated, we have grown to be one of the area's leading heating and cooling contractors second to none. Custom Air, Inc. is a fully licensed class "A" contractor with the state of Virginia.
Our people are our greatest asset. Our installation and service staff represent the finest professionals in the industry. There is no substitute for experience, and with many of our key people with five-plus years of service, we are in a position to deliver excellence when it comes to installing and servicing HVAC equipment and systems.
The principles that we hold high are the same that Brian embraced when he founded the business which are quality installation and service with a devotion to customer service. We continue to grow and improve because our customers believe that we will always be here to serve them. Customers, employees, and the vendors that manufacture the products we sell and use are all part of the family, the Custom Air family since 1993. Our only business is providing HVAC and indoor air quality for our customers and we stay focused on it.
We are a source of great pride and enjoyment by supporting and being involved in many activities in our community.
"PROUD OF OUR PAST FOCUSED ON THE FUTURE"